Hello and happy holidays!
Writing from a bustling coffeeshop in the Mission, San Francisco.  I figured I could knock out some emails, work on music, and get the December update out — which among all the start-up tech folk here, technically makes me the least productive person in the room.  Anyhow, I hope your month is shaping up nicely, and you're preparing to wind down the year in a haze of drunken, debaucherous cheer.  Or quality family time, whatever requires less effort.
THE WORK
This year, while many of you embarked on trips to foreign lands, new jobs or moved to a new city, I holed up in my apartment and made 300-odd tracks of unpopular music.  I have to say it was a great experience, and after it's (almost) all said and done, the only real reward wasn't all the money I made (haha), or the exposure I got (huh?), but simply the work itself.  I'm not sure if it was the great Buddha, Siddhārtha Gautama, or William Holden in Bridge on the River Kwai who said it first, but it's true: "be happy in your work".  I love music, and I hope you liked something I made this year — but even if you didn't, thank you for giving me an outlet for it.  I know now more than ever that I can't be happy doing anything else.
Okay, so one of the coolest results of doing this was that I was forced to make stuff I'd otherwise never have made.  For example, I recently lost all the instrument patches in my copy of Ableton Live — sheer installation stupidity.  However, that meant I couldn't really write music on my laptop anymore!  So, in the grand tradition of struggling college students and desperate journalists everywhere, I looked to the internet to bail my ass out.

"Bridge Over the Ocean"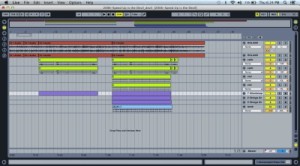 For the track "Bridge Over the Ocean", I wanted string sounds to make a sad melody.  I had no strings of my own, so I went to Youtube and found this piece by Aram Khachaturian, Gayane Ballet Suite (Adagio).
It begins with a lovely cello soli section, and I was able to rip the audio from Youtube via FullRip.net, and import it into Ableton.  Then, I cut up the audio, and isolated each note as its own, playable sound.  In effect, I created a string synthesizer, and could use it to form my own melody.
Now, you might say, "wow, you totally stole that Soviet guy's piece!" And to that I would say, "stop yelling!!"  But then I'd defend myself by saying I didn't actually use any of the original melody, only the sound of the strings.  Is that theft?  Legally speaking…probably, I don't know.  But artistically, I'd argue it's no more theft than trying to make, say, your bass drum sound like John Bonham's bass drum.  Slippery slope, perhaps, but I think sonic timbre is a unit of culture, and up for grabs to anyone who can make something new out of it.  ANYWAYS.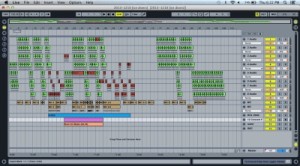 Likewise, "Ice Divers", I recorded my friend Maryclare Brzytwa's lovely flute-playing from my phone, and then ripped audio of some solo trumpet by the great Phil Smith (recently retired principal of the NY Philharmonic).  All of the green and red bits in the picture above are individual notes I pulled from Smith's playing, fashioned to my own chord sequence and melody.  Often, I pitch-shifted things where I wasn't able to find the exact note I needed in his original recording.
The same goes for Maryclare's performance, represented by the brown "MC" tracks.  She never actually played most of the lines exactly as you hear them in the finished track, but through pitch-shifting and editing of short notes into long ones, I fashioned an almost completely "original" melody (in the "I didn't steal it" sense, rather than the "look how great I am" sense).
I made other examples of this throughout the project, but I'll stop since I've already overstepped my nerdy bounds.  Ultimately, making music is the best reward, so I sincerely hope you enjoyed some of what I made this year!
BEST OF 2013
That said, let's talk about OTHER PEOPLES' MUSIC.  Woohoo, lists!
FAVORITE 2013 SINGLES
1. DJ Rashad – Rollin' EP
Chicago juke artist DJ Rashad got a lot of attention this year, and for good reason.  He's at the forefront of producers making "footwork"  — think very fast, 808-driven instrumental hip-hop — music made for lovers of bass music, and the stepping ability keep up.  This EP on UK label Hyperdub broke Rashad to a wider audience, and also features him flirting with another 2013 trend, jungle/hardcore breakbeats.
2. Archie Pelago – Subway Gothic EP
New York trio Archie Pelago make a kind of elctro-acoustic deep house.  It's dreamy, chill, and goes down perfectly in your earbuds on a long, gray subway ride.
3. Mark Pritchard – Ghosts EP & Lock Off EP
UK bass artist Mark Pritchard has been making dance music for over 20 years in various guises, most recently as part of the juke-influenced group Africa Hi-Tech.  These EPs continue in that direction, though with more jungle flavor, and a knack for minimalist sheen.  IMO, one of the most consistently interesting producers working.
4. Romare – Love Songs: Part One EP
Romare is a French producer based in London, and makes down-tempo bass music.  This EP is a good example of how to apply 808 beats to lounge-y atmospherics (and even a strange cover of Peggy Lee's "Fever"), and not come off cloyingly.
5. Addison Groove & Sam Binga – BS3 EP
UK bass music producers Addison Groove and Sam Binga have issued lots of music on their own, and in collaboration, the last couple of years, but this pairing features everything that's great about their sounds: footwork-tempos, driving momentum, sleek synths, perfect vocal samples.  Professionalism!
6. Eagles for Hands – Hot Telescopic EP
Self-issued UK house and down-tempo.  Pretty under-the-radar as far as this stuff goes, but I played both tracks on this EP more than a lot of other more well-known stuff this year, and would be surprised if he remains unknown for long.
7. Blacksmif – "Kang's Odyssey" (from the How the Fly Saved the River EP)
Great, jazzy house from UK producer Yemi "Blacksmif" Olagbaiye.  Breezy, and perfectly paced for dancin'.
8. Tessela – Hackney Parrot EP
Ace jungle/garage-inspired bass music from UK's Ed "Tessela" Russell.  This was one of the earlier entries in the nu-jungle sweepstakes of 2013, but still one of the best, and most energetic.
9. Lone – Airglow Fires EP
UK's Lone makes really cool music!  This EP is actually pretty chill by his standards, featuring lush synth pads and 90s house/garage beats, but with Lone's unmistakable bounce.  He's one of those guys who makes me curious about whatever they're doing now.
10. Cid Rim – "Mute City" (from the Mute City EP)
I never heard Cid Rim before this year, but glad I did.  The title track from his latest EP is a bouncy, practically grinning take on 808-powered bass music.  I wouldn't even call this "dance" music, but it would make an insanely GREAT old school Nintendo soundtrack.
HONORABLE MENTIONS
11. 813 – "The Whaler"
12. Siriusmo – "Stinky Wig (Anstam's Bustified Breaks mix)"
13. Kevin McPhee – "Who Loves You"
14. Alizz – Whoa! EP
15. Champion – "Bowser's Castle"
16. Sun Glitters – "Mouth (Shigeto mix)"
17. Dawn Day Night – "Mister Meanor"
18. Helix – "Linn Jam"
19. Templa – "Fracture"
20. Beau Wanzer – "Balls of Steel"
FAVORITE 2013 ALBUMS
1. Disclosure – Settle
UK duo Disclosure blew up this year.  They'd already released a slew of great singles, but it wasn't until this debut full-length came out that they really crossed over into pop-ish success.  Hell, they're even Grammy-nominated now!  And for good reason: perfect house music for people who like it big, shiny and melodic.  Not even sure these brothers are yet 20-years-old, but here's looking forward to what they do next.
2. DJ Rashad – Double Cup
Like his EPs, DJ Rashad's full-length announced the arrival of Chicago footwork as a major trend in dance music of the past few years.  I've heard some folks say this record is an "accessible" set of tunes from a genre that isn't exactly teeming with pop hooks, but to my ears, it's similar in quality to most of his recent EPs.  Which is to say, awesome!
3. Zomby – With Love
UK post-dubstep/jungle producer (now based in New York) issued this 2LP set of dark, atmospheric tracks with an alphabetically-organized track list.  Sound anal?  In truth, it kind of was: Zomby is a craftsman, and his music screams of detail-orientation and late nights spent crafting digital beats.  Personally, I prefer him in party mode (like on 2008's Where Where U in '92?), but With Love got lots of play for me this year.
4. Death Grips – Government Plates
Sacramento noise-rap duo Death Grips surprised everyone by self-releasing this record.  No surprise: if you liked their previous stuff, you'll like this.  In a weird way, it's "poppier" than most of their other stuff, with short songs, and somewhat calmer rapping from front-man Stefan Burnett.
5. RP Boo – Legacy
Compilation of footwork producer RP Boo's work from the late 90s until present day.  At times more minimalist than DJ Rashad or Traxman, but also more all-over-the-map.  There's a tune here called "There U Go Boi" that sounds like a marching parade of dancing robots all hopped up on molly.  You see why I like it, right?
6. Cassie – RockaBye Baby
Mixtape from onetime pop/R'n'B star that's not only a great party record, but a surprisingly fresh entry into whatever sweepstakes Azealia Banks is trying and failing to win.
7. Special Request – Soul Music
Like Zomby, UK producer Special Request (Paul Woolford) is a craftsman with an ear towards 90s UK dance music.  In this case, he's issued an aural love letter to IDM, jungle and Aphex Twin-style downtempo electronica.  And since I'm using terms like "electronica", you know he's got the sound down.
8. Darkthrone – The Underground Resistance
Yes, I still listen to rock!  And really, Darkthrone was my men-crush for 2013.  How can you not love a band who does whatever the fuck it wants, and whatever it wants is to make Motorhead/NWOBHM homages from their Norwegian homes whilst drinking beer?  Lots and lots of beer.  Sure, this record sounds nothing like their Black Metal masterpieces of the 90s, but then those scare my girlfriend, and I'm happy they made a record I can jam in mixed company.  (ps I love you B!)
9. Cyclopean – Cyclopean
Quietly great record from half of Can (Jaki Liebezeit and Irmin Schmidt), joined by Burnt Friedman and Jono Podmore.  Very atmospheric, rhythmic and minimalist.  So, yeah, Can — especially if, like me, you dig their Soon Over Babaluma-era mystical sonics.
10. TIE: Tyler the Creator – Wolf & AraabMUZIK – For Professional Use Only
Tyler the Creator continues his streak of releasing the best solo records of any Odd Future member (sorry Earl, Doris was overrated), though IMO it's the worst Tyler solo record overall.  AraabMUZIK continues his streak of slamming MPC beats on top of lush EDM and pop productions, and somehow calling it his own music.  Still, he has great beats, and as trap music goes, it's (gasp) pretty!
THE MONTH IN PICTURES
MONTHLY MIX
Here's a live mix featuring many of the folks discussed above.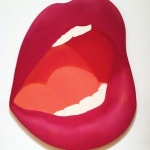 Lee Bannon – PEACES / Phone Drone
Lone – Dueling Auroras
Eagles for Hands – Toska
Archie Pelago – I Know About Robert's World
Deadmau5 – I Remember
Burial – Speedball2
Mark Pritchard – Lock Off
Wiley – It's A Par (instrumental)
DJ Rashad – Love U Found
Traxman – I Need Some Money
J Dilla – Mythsysizer
Perfume – Kiss and Music
Foster Sylvers – Misdemeanor
Cid Rim – Mute City
Pixelord & Klic – Mustard Tiger (club mix)
Siriusmo – Stinky Wig (Anstam's Bustified Breaks mix)
Addison Groove & Sam Binga – Ol Man EK
AFX – Analogue Bubblebath
Iva Bittova & Dorothea Keller – Slovenska II
Okay, thanks for reading.  Please enjoy and have a great rest of the year!

D