Hello!
Hope you've been keeping busy, rising out of the winter funk into a funky summer. Pardon my liberal use of the word "funky", but the weather's too nice to keep things bottled up. WWGCD?*
First up, I want to tell you about some exciting shows — chiefly Fred Frith is bringing the GRAVITY ensemble to Canada and Europe! We'll play this weekend at the Festival de Musique Actuelle in Victoriaville, Quebec, and then next month at the Moers Festival in Germany. I'll also sit in with Ava Mendoza in Moers, and if you're anywhere near those necks of woods, come on out.
ART OF THE MIX
Otherwise, it's work, work, work, work, work, work. Ugh. Work. The week started bad, but I didn't need a daily reminder of why most people hate their jobs. I mean, really hate. On top of that, I had no laptop, which meant I couldn't actually "work work"; i.e., recording, mixing, writing, updating the website, looking at [ick] SOCIAL MEDIA…all pretty much out. I was going both stir crazy and starving for stimuli, and knew something had to change.
So, I bought a new laptop. Yay! "I'll be working again in no time," I thought. All I had to do was install all my software, update the OS (bought it used), sync my iTunes, do an antivirus scan, fill in all my email and admin passwords/servers, and, um, I think a couple of other things. Yeah man, new laptop. Guh.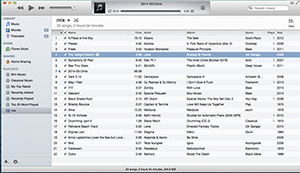 First thing was first: I needed to sync my phone and repopulate all its music. That meant erasing all my phone's current music. Damn Apple. But hey, it could be a chance to freshen up the shuffle, hear some new tunes, right? Of course, I'd have to add a lot of old metal from before, probably some piano music, and…a lot of other stuff. What a chore. Before I knew it, I hated music.
Of course, picking one's life soundtrack isn't easy. It requires thinking, which is never fun. However, it also requires one be honest with oneself, which is even less fun. You have to sense how you feel NOW, what moods are more likely to soothe the savage rat racing rage, or just annoy you for having to press ">>" so much. AND you have to think about what kind of music works in the most listening situations. Inward/outward, meta/micro.
Well, that definitely meant adding plenty of Darkthrone and Swans. Hard, dirty, not-so-vaguely hateful at times, never-remotely-subtle. It's not misanthropic music per se, and especially in Swans' case, the source of a certain kind of battle-hardened catharsis. I guess that's why I picked it: slaving at a job that will never satisfy the thing inside that aches to explode onto the canvas-white field of life lends itself well to SLAYING YOUR ENEMIES VIA THE BRUTAL, REMORSELESS SOUND OF HEAVY MUSIC.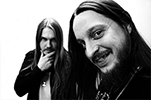 Elsewhere, I've really been into late period Liszt recently, especially pieces like "Nuages Gris" that seem to anticipate the "keyless", then-revoluationary ideas about music harmony of Debussy, Schoenberg and Stravinsky. I also put on some meditative Satie, to balance out Liszt's more dramatic tendencies, as well as scattered works by playlist "regulars" Ravel, Stravinsky, Bartok, Ligeti, Messiaen and Debussy. (Not a ton of super modern stuff, but whatever classical snobs, I like what I like.)
Under the theory that man cannot live on sturm und drang alone, I put lots of old pop stuff (Fleetwood Mac, Beach Boys, solo Beatles), newer pop/dance stuff (Daft Punk, Lone, Hudson Mohawke), various prog (Magma, Cardiacs), a little jazz, funk, indie, folkish, rockish. This stage was actually the easiest, because it was a simple matter of falling back on a rich history of self-cultivation. If the internet has taught me nothing else, it's that I tend to revisit stuff I love over and over and over again. Why fight yourself, you know?



After all that, I'd obtained 400 songs or so. That might not necessarily sound like a lot, but my listening strategy has generally been to a) listen to tracks from a wide range of artists, as opposed to albums from a smaller range, and b) to SHUFFLE. And that's just it: the mix is the key. Every refilling of my phone's tunes means another chance to blow away the dance floor in my mind as I commute, exercise, study, have sex or do any other thing in existence. You never know exactly how it will happen, but with the right mix, you always know something special could happen.
Finally, you add one more tune that's inexcusable, and perhaps even makes you wince. Except it never does. I'll leave you with the clip below, and wish you happy hunts on all your future life soundtracking. Thanks for reading!!
https://www.youtube.com/watch?v=SN1gi8oq74g
UPCOMING SHOWS
May 18 – Fred Frith's Gravity, Festival de Musique Actuelle, Victoriaville, Canada
May 21 – The Music of Sun Ra, El Rio, SF
May 31 – 24 Hour Drone, KFJC FM (6am set!!!)
June 07- Fred Frith's Gravity, Nijmegen, The Netherlands
June 08 – Fred Frith's Gravity, Moers, Germany
June 27 – Mission Eye & Ear Festival, ATA, SF (premiere of a new film score!)
Aug and beyond – recording my new ensemble!!!
THE MONTH IN PICTURES
2014-0512 [let the sunshine in]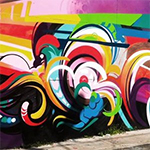 Swans – A Piece of the Sky
Ikonika – Please
Hudson Mohawke – Freek
Lone – The Twilight Switch
Elec Pt. 1 – Symphony of Pain
BNJMN – See Thru Stars
Darkspace – 3.14
DJ Rashad & DJ Manny – Way I Feel
Zomby – 777
Special Request – Descent
MF Doom – Black Snake Root
Captain & Tennille – Broddy Bounce
Weidorje – Vilna
Seth Horvitz – IV–13: Echoes
Steve Reich – Drumming, pt. 4
Lone – Petrcane Beach Track
Magma – Eliphas Levi
Alejandra & Aeron – Anne Laplantine Loves the Sea But Loves Her Computer Most
Terje Isungset – Bird
Roedelius – Fabelwein
Bathory – Outro
Enjoy!

D
* – What Would George Clinton Do?