Hello again!  And happy Spring!  It's almost Summer!  I can't believe how excited I am!!
Let me use this excitement to invite you to my show on May 24 at Cake Shop in Manhattan.  I'm sharing the bill with my old friend Thomas Dimuzio (out from the Bay on an east coast tour), the incredible guitarist Nick Didkovsky and songwriter Mary Epworth.  I'll be playing a new set of electronically constructed tunes with Ava Mendoza and Aaron Novik.  All the details are below, and hope to see you there!
SUNDAY MAY 24 @ 8 p.m.
CAKE SHOP, 152 Ludlow St, NYC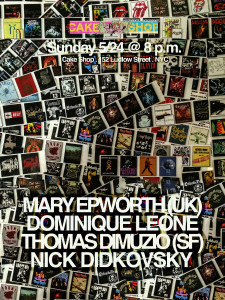 I've also uploaded a new mix of stuff I've been into recently.  Rainy/summery/chill/not-so-chill sounds.  Check it out!
2015-0518 [raining into summer mix] by Abstractexpression on Mixcloud
Tracklist:
Boredoms – Moonsidal Cendencies (Moochy mix)
Hosono & Yokoo – Malabar Hotel Upper Floor: Moving Triangle
Suicide – Rocket USA
Ninos du Brasil – Novos Misterios
Ricardo Villalobos – Erso
Floating Points – K&G Beat
Clap! Clap! – the Rainstick Fable
Cotton Claw – Crooked (Julien Mier mix)
John Wizards – Tek lek schrempf
Rustie – Hyperthrust
DJ TJ – Walcam
Death Grips – Klink
JLIN – Black Diamond
Knxledge – thtroll/rightafter[THK]
Disclosure – Second Chance
Kendrick Lamar – Alright
Actress – Ascending
Brazilian Girls – Lazy Lover
Jan Jelinek – Moire (Strings)
K15 – Hall of Memories
General Ludd – Burning Mack
Archie Pelago – Saturn V
Alejandra & Aeron – Humming Radio Caro Carino
Albert Marcoeur – Que C'est Beau
Cos – Fanfan La Tulipe (vocal Improvisation)
Miles Davis – Konda/Boredoms – Mooncidal reprise
Enjoy!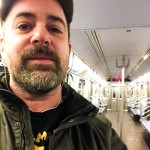 D